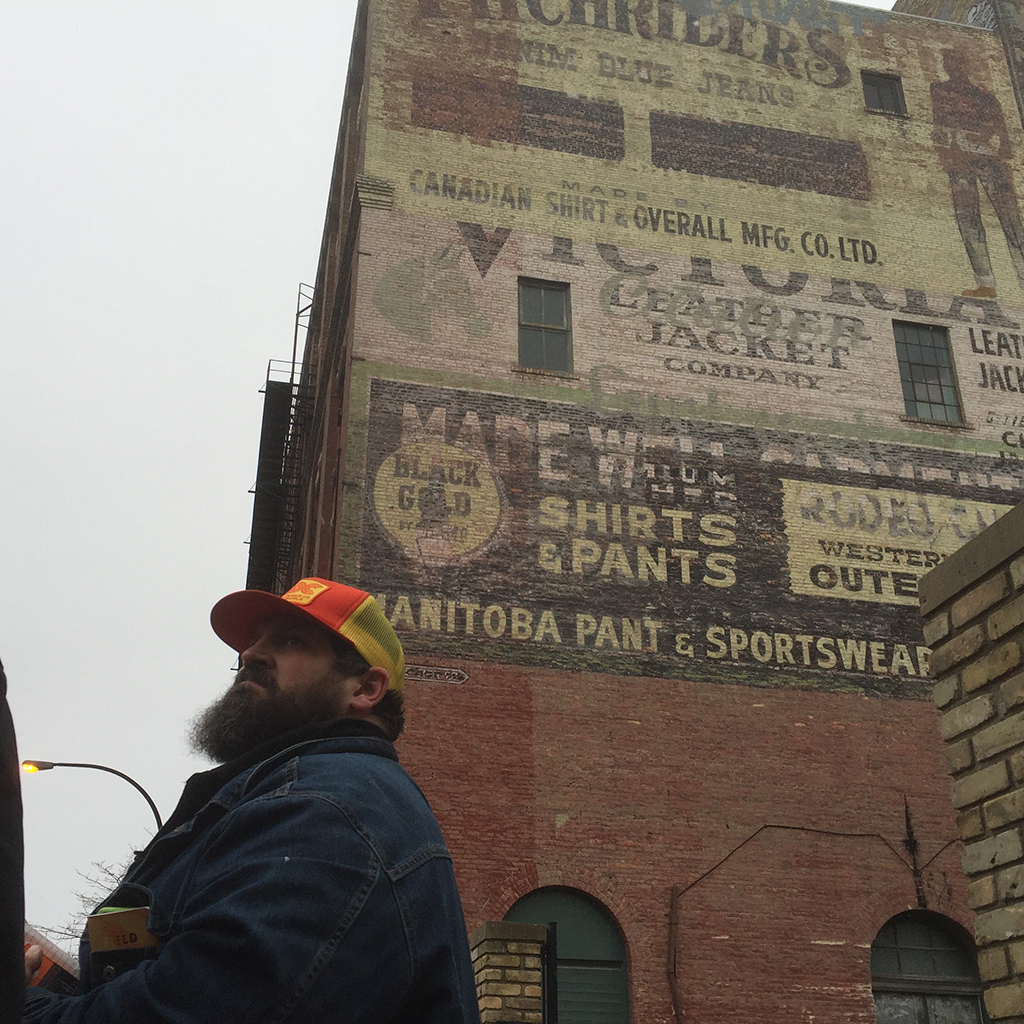 With an abundance of conferences on typography, user experience, web design, etc., designers and developers could max out their credit cards in a hurry. But the real work of design happens on the ground: on tables, desktops, coffee shops and in the community.
One of the first things we wanted to do as a new board of GDC MB was to bring to Winnipeg the inimitable Aaron Draplin. In my estimation, Draplin is the most respected designer in North America these days. In no small part it's because he embodies a real desire among young, (and old), designers to create logos, identities, products, and inventions that have lasting value and that are based upon the tried and true work of the past. Draplin is best known for his insanely beautiful logos that not only have street cred but are commissioned by those, (like the Obama administration), who need something lasting, assured, definitive and credible.
Last week, it was a distinct pleasure hosting Draplin here all thanks to a herculean feat by the GDC MB board.
DDC9479: And tomorrow morning, we head to Winnipeg for quite possibly the GREATEST 40 HOURS OF OUR LIVES. https://t.co/MATRLlD9LI #thepeg

— Draplin Design Co. (@Draplin) November 4, 2015
We had two freaking awesome days together, Draplin and Winnipeg. During those 40 hours, he met with a few dozen GDC designers, over a hundred Red River College design students, and lots of folks on the street while we did a massive ghost sign tour of the downtown. Then on Friday night, he spoke to a sold-out audience of over 250 about his work, ideas, and aspirations; most of us were just gripping the sides of our seats the whole time as a barrage of images, music and f-bombs rang out. A lot of what Draplin says is based on his very honest, working-middle-class upbringing; it's humble and fully laced with a real disappointment about the pretense of contemporary design coupled with an equally real understanding of the challenges for design and social engagement.
In the spirit of his antic and full-throttle ramblings, here were a few takeaways, (with special sauce), from me.
Field Notes & No Drama
At Red River College, students were asked to put their questions in a jar, (which seemed appropriate), and Draplin picked pieces of paper randomly. One of the students asked about how he deals with procrastination and coming up with ideas when he doesn't have any. Draplin said that postponing your work was bullshit and that we had an obligation to reach deep down, research a client's needs, and put pen to paper. He indicated that there isn't enough time for procrastination and that the world was in need of too much good design for us to wait around.
Draplin's Field Notes notebooks make this very concrete. The Field Notes line is based on the notebooks that farmers and engineers carried with them every day to record their work, plans, and options. On farms and factories, there is no procrastination, deference, or delay. It's get to work and get it done every day. The structure and simplicity of the Field Notes product is just that — write it down, think it out, put it together, measure it up. A similar question came from another student: What is the one non-digital thing that inspires you? Draplin's answer: "My mother's mortgage."
Help Helps & More
A number of times, Draplin talked about the need to offer assistance where assistance was due. At the college, (which has a superb design program by the way), he talked about what would happen if everyone in the group picked up and went to somebody's house, someone who had little money or resources, to help them move their belongings. Further, Draplin talked about visiting the "Free Help" section of Craigslist and fixing a PDF or developing a quick logo for an organization who needs help. While impractical as a full-time designer, Draplin made it very clear that being a designer in your community actually means rolling up your sleeves, getting out there, and addressing needs. It does not have to be complicated nor necessarily time consuming, despite the volume of the unique individual and social challenges we face. Help helps.
I'd like to see Manoverboard do this more often. We recently completed a full rebranding, pro bono and through the auspices of Spark, for Trailblazers, an organization here providing front-line services to adults with disabilities. But there is much more our team can do and Draplin's call to action is one that designers and design studios can easily heed.
Hang Tags & Purpose
At one point in his talk with students, Draplin pointed out a hang tag attached by a wire to a radiator pipe above. That object, full of detailed information important to the custodians of the school, was, he said, more interesting to him than all of the student work before him. There were a few silent gasps, but Draplin didn't mean this to be insulting. His point was that the design of the hang tag was inherent to its purpose. The goal of the designer who shaped and tested that paper object was to simply and clearly communicate the critical details about plumbing infrastructure so that a school engineer or maintenance worker would know what to do when the shit, perhaps literally, hit the fan.
Designers do a lot of things but decorating should be last (if ever). I've always tried to be very clear about this with our clients. We use colour, type, and imagery to connect, motivate, and communicate. If we do that, we've done our job. As designers, our real work is to cut through the cruft, boil it down, and thoughtfully create something new that says the right thing to the right audience. Draplin puts a nice fat pencil underline on this in nearly all of his work. If we want to change the way the world does business, we'll need to reach deeper, reduce further, and build a lot higher. And make more weird stuff that people like and remember.