Manoverboard is now a part of Mangrove Web Development, a creative services agency and fellow Certified B Corporation based in California. Our merger took place on January 16, 2023.
We have collaborated with many superb design and development studios over Manoverboard's 21-year history, including Mangrove and its incredible team of creative professionals. Our close collaboration on several recent projects cemented a growing sense of what more we could accomplish by coming together under one phenomenal organization. And now it's official!
What Manoverboard clients can expect
Manoverboard's six-person crew in Winnipeg and Mangrove's globally distributed staff of 18 will become a more robust cross-functional design and development team. This means we'll be able to accommodate larger, more complicated design and development projects seamlessly and effectively. We will also continue to support clients with ongoing site maintenance and upgrades, providing those services even more readily.
What won't change is the relationship clients have with our homegrown team in Winnipeg. We are still based here and remain committed to our community and province.
We've helped scores of amazing purpose-driven and non-profit organizations with their brand identities, websites, and more over the years. On a personal note, it has been my great pleasure and honour to work with so many inspiring individuals. I am deeply grateful for their commitment to Manoverboard and for their trust in me, our team, and our partners. We are taking those commitments and that trust forward.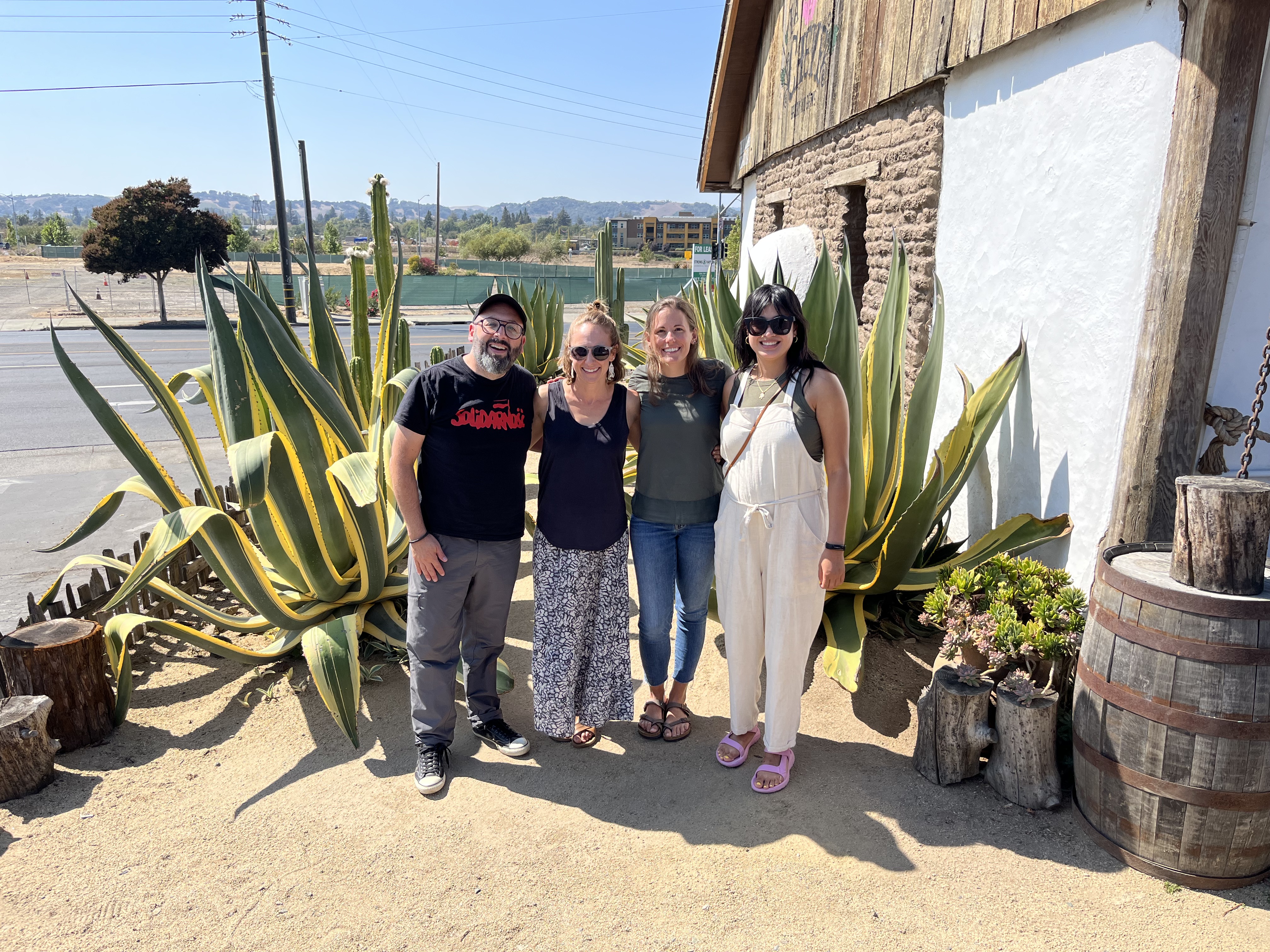 Image Caption: Andrew, Maiya, Megan and Marie posing for a photograph outside a restaurant in Napa, California.
Why this merger is the perfect match
As sister Certified B Corps creating award-winning, purpose-driven brands and websites, this partnership will allow us to expand the social impact of each of our organizations.
This merger will amplify our commitment to diversity and inclusion by tapping into Mangrove's globally distributed team in locations such as Spain, Bosnia Herzegovina, Serbia, Turkey, the United Kingdom and Argentina. Conforming to our enduring ethos of using business to create a better world for all, it's fitting that those creating that better world transcend borders.
Many of our clients are international in scope, and this trend is bound to continue. Having a geographically diverse team reflects our increasingly global context. The cross-cultural sharing and diverse perspectives the Mangrove team will bring to Manoverboard will benefit and strengthen our creative services and impact.
Click over to our new digs
We can't wait to introduce you to our new digs, and we hope you'll explore our complement of services over at the Mangrove website. See you there!