Manoverboard is happy to announce that it is now powered by Bullfrog Power, Canada's leading green energy provider. In keeping with our mandate of environmental sustainability, Bullfrog Power's generators match the amount of energy used at Manoverboard and inject 100% green electricity back onto the grid. The energy comes from clean, renewable sources such as wind and low-impact hydro power sourced from Canadian renewable energy facilities. Canadian households contribute almost half of our country's total greenhouse gas emissions and we are thrilled to have the opportunity to reduce our own environmental footprint by choosing clean energy.
Like Manoverboard, Bullfrog Power is a Certified B Corporation dedicated to higher standards of social and environmental performance, transparency, and accountability. Their vision of a future powered by 100% renewable energy matches Manoverboard's vision of partnering with other organizations using the power of business for good.
"When clean energy choices are available, many good things happen."
Bullfrog Power provides funding for green initiatives and renewable energy based projects throughout Canada. One of their many projects include partnering with Sagkeeng First Nation to build a 5 kW wind turbine on the banks of Lake Winnipeg. Bullfrog Power also transformed an unused commercial rooftop in St. Catharines, ON, into a 572-panel solar array that produces more than 17,000 kWh of clean electricity for the grid over a single winter.
Minimizing the environmental impact of your home or business is quick and affordable. Visit www.bullfrogpower.com for more information.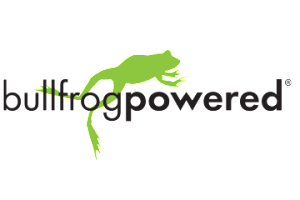 Topics