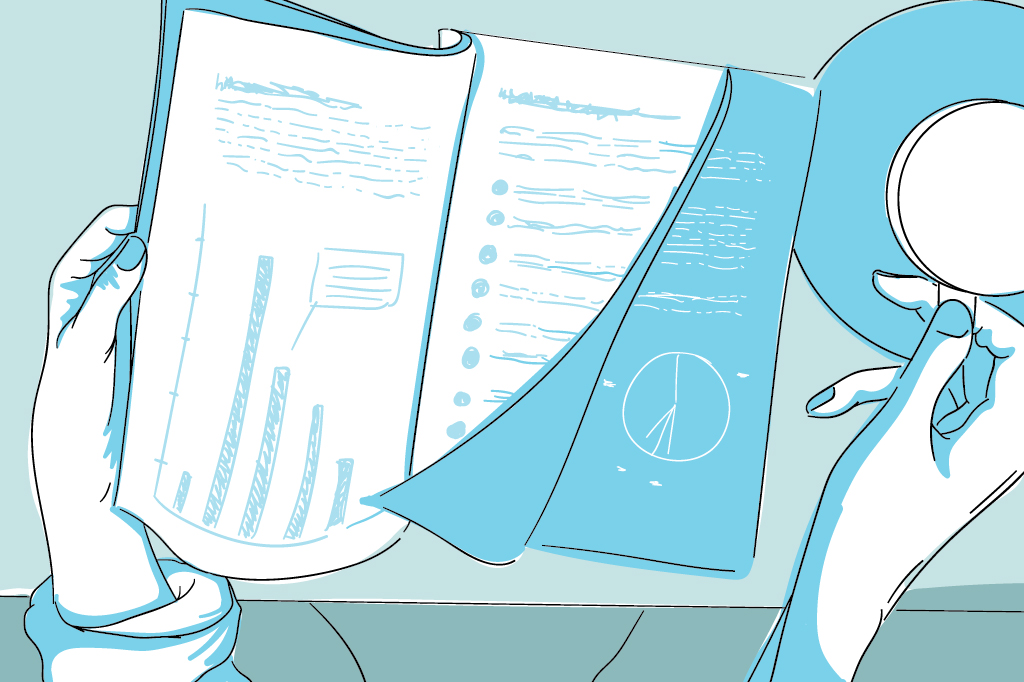 Stick To Your (Branding) Guns
In today's busy world companies must fight harder then ever for customer awareness and brand recognition. Your annual report is an extremely valuable tool to help solidify your brand and deliver a concise message that will both connect and demand respect.
The most effective way to achieve annual report nirvana is through strong design coupled with well written copy and tightly integrated visuals. Design without powerful copy is just decoration while text without thoughtful and strategic design is disheartening and sad.
Visually Demonstrate Your Impact
While presenting your financials are part of most annual report's mandate, employing visuals like infographics, illustrations and photography make data and information more useful and manageable. We work with clients to identify key informational components and build easily digestible graphs, charts, tables, and infographics to highlight them.
Personal stories are more emotionally compelling then raw data because they link your company with the personal and professional achievements of the individuals that use your product or service. Showcasing impact stories of employees, clients or partners to demonstrate the change you are fostering can be very powerful. And using pull quotes to highlight key points helps ensure they are not overlooked in the body of the report.
Keep It Simple (But Don't Skimp on Design)
Annual reports contain a range of content types: headlines, body copy, pull quotes, financial statements, infographics and images. It can become difficult to keep a report flowing and interesting to the reader all while maintaining the integrity of the information being presented. This is where design comes into play.
The length of your report shouldn't be ruled by how much content you can fit on each page, but rather by the progression of the story that he report is telling. By increasing white space around the copy or using customized infographics, you can create a focal point to hold the reader's attention all while keeping them interested enough to turn the page. Simplicity is always key to creating a compelling overall design. Keep your typeface choices to a minimum, respect the space around all of the elements on the page, and keep the style and placement of photography consistent.
To go the extra mile, hire a photographer to portray your company with both passion and expertise. You should hire a studio or agency to work on the entirety report and not bits and pieces of it. When it comes to printing your annual report, look for local print shops that can print and bind the document. And always use FSC Certified paper which ensures that the product has been monitored to be environmentally viable and socially beneficial.
Explore Other Mediums
The days of the strictly printed and perfect-bound annual report have gone the way of the dodo bird. More and more companies are employing increasingly multifaceted, creative, and interactive means to get their annual report into the hands and onto the screens of possible customers or investors.
Creating a digital version of your annual report that makes for an easy read while on the go. You should also consider an interactive supplement to the printed piece that allows visitors to better understand your ideas and data. Companies can push the bounds of their annual report through dedicated annual report websites, custom designed PDFs or quality printed materials. Most importantly, strive to create a final product that you would be proud to send any client and look to for inspiration.
Create a Tool for Change
The narrative of your annual report should ultimately help a reader become more involved with your brand. Are you seeking increased enrolment in a program? Boosting sales or inspiring donations? Consider including a call to action to push readers to your website or to contact you.
You may also want to think outside the box and "launch" your report publicly. Create a social media campaign for a virtual launch or host an event to create a buzz in your community.
In the end, what really matters about an annual report is showcasing your expertise in a way that makes you stand out from the crowd and increasing the impact that you have made.
Is your annual report in need of an update? Shoot us an email today. We would be glad to help you.